"Are you the gay?"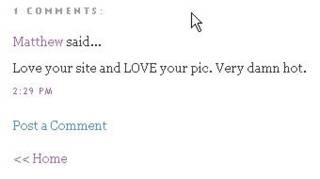 After this lovely comment, I felt good for the rest of the day. Thank you Matthew! Do you have a blog? Drop me a line and let me know..okay? Your profile is not viewable, and I certainly would love to read about you, if I already haven't.
Even though I like the complementary comments, you've only achieved true meaning once you get some hate mail. (I'm not encouraging it)
No word on the job as of yet, he did tell me he would be in touch on Sunday, so I'll take his word for that. Nothing else is really going on, the olympics are almost over, summer is not far behind, and things are at a stand still.
Talked to my nosey neighbor today. She is a great source of info. on the happinings around our apartment. "They got evicted....She's the crazy cat lady....He's a registered sex offender.....He's cheating on his wife." That list goes on and on. Do you have a question about your neighbor? Let me know, I'll ask her, and then get back to you with an answer ASAP. I really like people like this though, but I am worried what she tells people about us. "They are the gays." I'm sure.