Motivations and Lack of Them..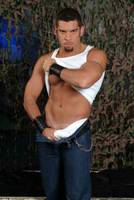 Mario Ortiz
is the love of my life right now. He's sort of a motivation device for me. I have printed just about every picture of him I can find and have posted them all around this room so as to remind me why I am on this diet; so that I can get a man like him. Joking, but seriously, I love Bobby very much and don't see myself with anyone else for awhile if ever, but if Mario where here right now, I would just about die. I have a crush I guess, and yes it's totally physical, and totally hot. He's looking at me right now.
And I can hear it now "you have a man that loves you." Yeah I do, so what? He's no Mario and I'm no Michael Phelps either.

Michael is Bobby's latest obsession; I guess you could say that he is Bobby's Mario for the time being. I mean hell, that's all he talks about, and during the swimming tryouts a few weeks back, we he was glued to the TV. But hey he's hot. So we are both lusting after others, while still sleeping in the same bed. It's normal don't you think. I'm all about

him too. I can't deny it at all. I'm just very horny I suppose. VERY! So watch the Olympics and also watch some hot Latin porn and see both of our hotties in action. You won't be disappointed.
On another note I'm going to Chicago for a week on the 6th of August, anyone want to meet for dinner? Would be nice to meet a few people while I'm away. Also school has only one more week, and then I have 3 weeks before my final semester in the fall and then I'm out; if I find an internship that is. Not that I've been looking very hard though. I'm not motivated at all in this regard. I just have to find something and I don't care what it is, but I have to get on the ball or else it will be too late. But what's after that? I have no clue what I'm going to do with this degree. I have no idea what I want to do, or will be doing. I like so many things, but I don't really shine at any of them, I'm mediocre at best. I just want to be a house wife. I can run a household, and that's about it. I'll be a kept woman, with 2.3 dogs, a Mercedes, and a pink tennis outfit, doing the shopping while never removing my cell phone, and go to the spa and shop at Louis each and everyday and make a pit stop for botox now and then. That would make me happy and hey I'm good at all that stuff!!