Handsome Hanson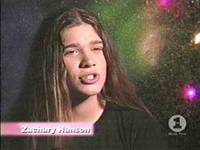 I know it's pathetic but I really think that Zach Hanson is growing up to be quite the looker. Yes I know the hair is really bad and thank god they all decided to cut that mess off or at least get it to a more manageable length. But...he's hot hot hot now. I know he's young, but I do think he's 18 now so it's a lawful obsession. I saw them on Ellen, and that was all it took. I mean they've all grown up quite nicely but my heart lies with the youngster.
He's always had the features I guess but the hair being removed really makes the man. the new hair is hot. Yes everyone has that hair cut but not everyone has his grill. His lips are gorgeous, and he still has that little boyish charm to his face. His nose, his skin, his teeth, did I mention the lips? Sweet.
I mean they all look good to me now adays. But mostly he oldest and the youngest are the one who could eat crackers in my bed anytime. They have a new album out and it's pretty good to say the least so maybe the fact that I think they are hot will level out one way or another.
Look at that smirk as he takes that jug of milk out of the fridge. RARRRR I mean I just love him. Do you ever feel that way about a guy you see on TV. I have a long laundry list of young men that I've programmed TiVo's wishlist to record. I mean anything they have even been in. Try it. Ryan Phillippe was on Matlock like twice?? Who knew? TiVo that's who!!

So guess whose been added to the list. I mean they CAN sing somewhat. They play their own instruments. They are young and hot. They have tons of money. They have fame pouring out of every gland. Did I mention they/he can sing? That make it okay....right?